*** NEWS ***
There is a wonderful cover story in the new magazine STAYINART 3.23 dedicated to the artist.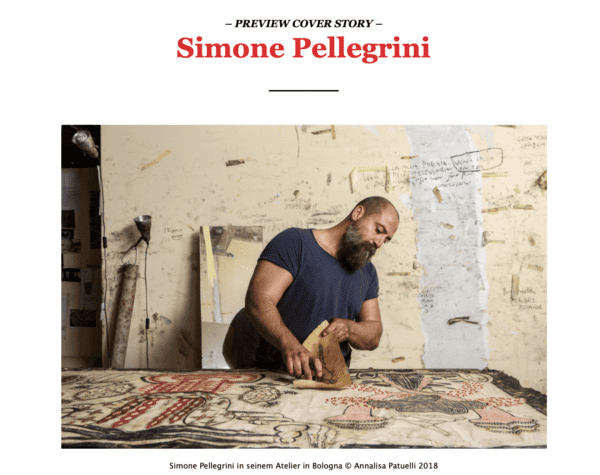 Opening of the Solo Show at the MUSEC Museo delle Culture in Lugano (Switzerland) on July 19, 2023, at 6:30 pm in the personal presence of the artist curated by Francesco Paolo Campione and Nora Segreto like a third appointment of the "Global Aesthetics" project, entitled SIMONE PELLEGRINI. Una geografia anarchica.
"Pellegrini's pictorial research is aimed at finding a new alphabet – write the curators – or syntax, made of shapes and signs that he imprints on large sheets of paper with the matrices he produces. The sources of his creative inspiration are philosophical, mystical, scientific and poetic writings that consult and liberate the imagination of his inner world. Each paper matrix created by the artist, drawn in charcoal, colored with pigment and finally oiled to allow the correct transposition of the motifs, creates a single shape, is used only once and then is thrown, thus generating unique elements. Juxtaposed with each other, the signs imprinted on the large sheets form visionary and timeless cartographs that evoke mystical iconographies, archaic landscapes, cosmogony, ancient alchemical, esoteric and mythological codes. The great cards of Pellegrini are the slow development of a symbolic grammar in which each element enters into dialogue with others."
The exhibition set up in the Spazio Maraini inside the Villa Malpensata of the MUSEC presents 12 large-format artworks on the wall and an installation consisting of numerous paper matrices placed on the ground under the largest work and set up as if they had fallen after transposing the sign on the support. The exhibition is accompanied by an English-language catalogue published by Fondazione culture e musei in its series "Global Aesthetics" with texts by Francesco Paolo Campione, Nora Segreto & Nina Katschnig and the biographical notes curated by Cristina Principale.